December 14th, 2010 by someclevername
Designed by Oscar Niemeyer, and completed in 1970, the cathedral is one of the signature architectural works of the Esplanade. I had the opportunity to visit in the past week when I had a few free hours in the middle of town.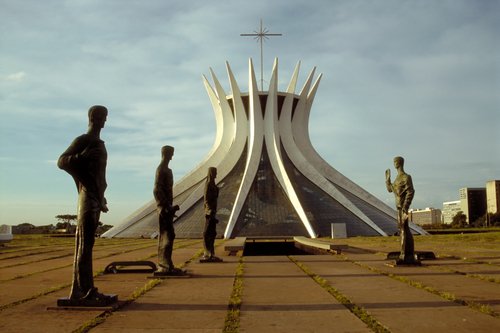 via Wikipedia
During construction:


via Fabiano's Blog/ abduzeedo.com
The building looks graceful from the outside. It consists of 16 poured concrete pillars that sweep inward and meet near the top of the structure. They converge and then their points evoke the image of a crown. Apparently they weigh 90 tons each.
You enter through an underground ramp, and transition through the corridor from an enclosed and tight space that is finished in black marble to a space that is white stone, poured concrete and stained glass. That transition looks like this:
Outside the building looking into the corridor

In the corridor

End of corridor

Looking up

Another view upward

a borrowed photo taken with a wide-angle lens:


via brasiliabsb.com
The pews are beautiful minimalism

The cathedral looks so closed from outside. But the way the interior draws in the light it looks so weightless that you really don't feel the presence of giant concrete pillars. The light color of the glass from the inside amplifies the light in the space and makes what isn't that huge of an interior feel large.
Like a number of the buildings here, the material predominantly used was poured concrete. Not all of the buildings here have held up well over time, and this building is currently being restored. The economy has been growing here so it has been a better time for foundations and easier to pour funds into restoration. The building has a big fence up showing that work is going on at the surface level.
I really like the poured concrete bell tower, with its four bells of increasing size. This was a beautiful way to spend an hour in-between interviews!